I've been beavering away on my part of the Interactive Rendering course for Udacity and Autodesk. It's a free MOOC – massive open online course – and I'll talk more about what I learned from doing it when the course nears completion. For now, the main takeaway I have is "WebGL plus three.js is a pretty good combination for teaching graphics on the web." The fact that WebGL is built into most browsers (sad slow head-shake to Microsoft Internet Explorer at this point) means you can point a student to an URL and they can immediately see and play with an interactive demo. Three.js is a scene graph library which simplifies for the student the mass of initialization and whatnot that WebGL requires, while also not hiding a lot of functionality from the programmer (like some scene graphs do). Bonus bit is that the Chrome browser has a JavaScript debugger built in (just hit F12 or ctrl-shift-I to toggle it on), so students can always look at the underlying code.
So, here's my New Year's thingy for you to try out:
The Teapot – nicer controller, not currently working on mobile
The Teapot – semi-mobile friendly, annoying trackball
[Mac/Safari users: follow these simple instructions to enable WebGL on your machine. Other users: if stuck, try this site.]
Nothing deep, as it's meant for teaching about Gouraud vs. Phong shading: the mouse changes the view (left: trackball, right: pan, middle: zoom), there are a few keyboard controls to switch from vertex to pixel shading and change the tessellation, a GUI for messing with the model and scene, and a little FPS counter in the corner. If the mouse or GUI doesn't work the first time, hit refresh (and if anyone knows a fix for this glitch, speak!). If you see the FPS counter consistently below 60 FPS for your machine, please let me know your hardware configuration. The heresies I commit in this program:
You can add a bottom to the teapot (SJ Baker's excellent page considers this a major sin).
You can expand the lid 7.7% horizontally to give a solid seal between the teapot and the lid (this gap looks goofy to unbelievers).
You can scale the model up by 30% so it actually looks more like the real teapot (read the end of this section for one explanation of why the model was changed – short version: Blinn hack to adjust for non-square pixels).
Comments appreciated!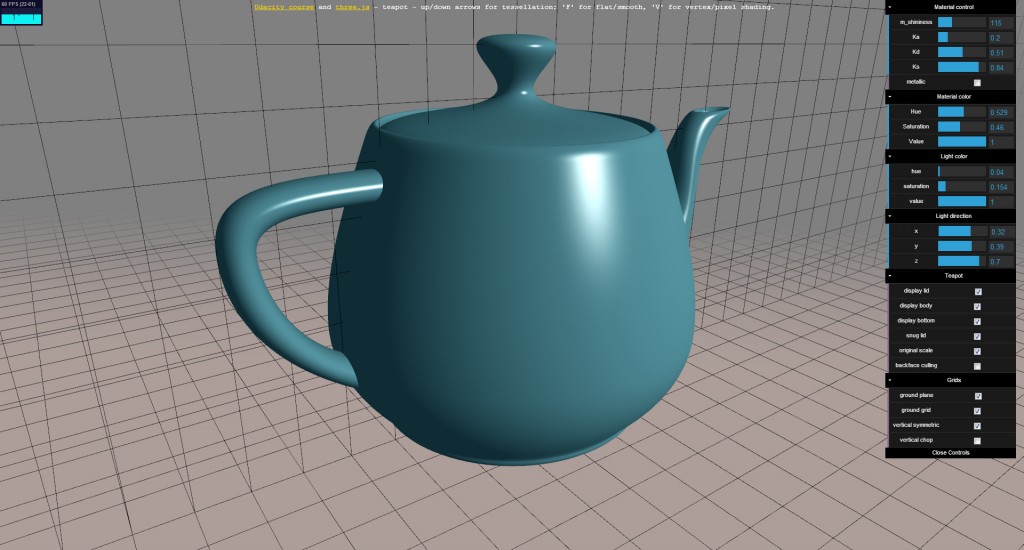 Comments are now closed.