As of today, March 11th 2013, the free online interactive 3D graphics course I've been working on has begun, at last. I've been laboring in earnest and more than full time on this class since October (thank you, Autodesk), and I'm just the most visible person on the project. There's a raft of others at Udacity making things work and look great: web programmers, video editors, and particularly Gundega Dekena, the assistant instructor on the course. Many other people inside and out of Autodesk have been contributing time for interviews, for video clips, and  for reviewing material (special shout-out to Patrick Cozzi and Mauricio Vives for reading over everything). It's way more total work creating a video course than writing a book, maybe equivalent to the effort of making a movie vs. writing a novel.
Some of the slick things Udacity has done is integrate video lessons, WebGL/three.js demos, and exercises and questions all in a continuous series. I'd point at an URL, but you do have to sign up for the course to see its structure. Also, wait a day or so: by tomorrow a bunch more links to resources should be in place, at least for Unit 1. Soon the course code will be githubbed, the videos all downloadable, etc. (update: this is now done.)
By the way, this is only the first half of the course. I'm in the throes of writing the second half, which will come out May 1st. I'm learning the video creation process as I go, so I think the quality is increasing as the units progress. Gesturing at the screen and reading what I wrote at the same time gives me a new-found respect for weathermen.
Even if you already know about 3D graphics, you might want to check out the history of the teapot video, which Martin Newell kindly fact-checked. And if you don't know who Martin Newell is, or only know that he created the teapot model, then you definitely should watch the video. Oh, and then try the WebGL/three.js demo here.
What's nice is that all the course videos are hosted on YouTube, so it's easy for anyone to link to any of the lessons (well, except where YouTube is blocked; Udacity has  alternate delivery methods). I hope that these videos and demos will be handy for other people explaining 3D graphics.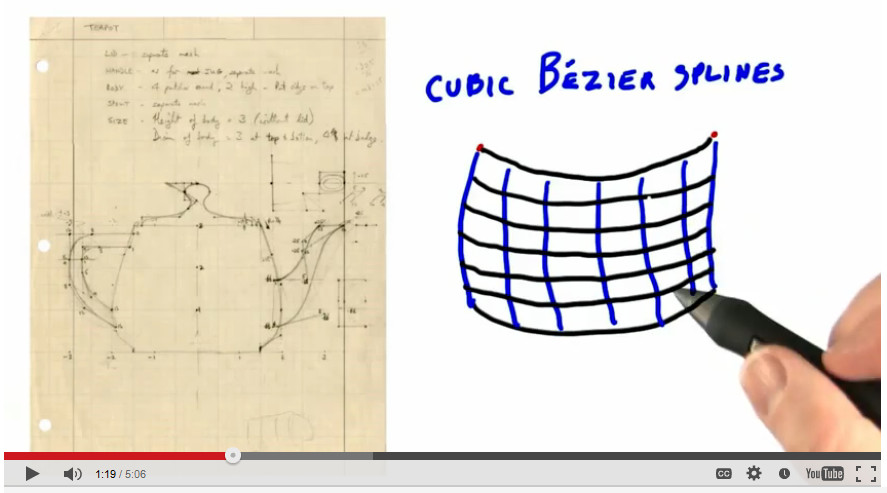 Comments are now closed.