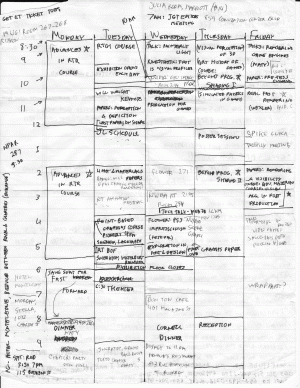 I've messed around with various scheduling methods over the years for SIGGRAPH, but find I dislike the form factor of PDA-like devices: you can see a few hours, or maybe a day's activities at best. Taking notes can be tiresome, you need lots of clicks needed to find stuff, and sometimes the battery dies.
So for the past few years I've locked onto classic graphite stick & cellulose technology. Honestly, I like it a lot: folds up and fits in my pocket, it's easy to see conflicts among events, I can instantly figure out when I'm free, and lots of room on the back for notes and whatnot. At the end of the conference I automatically have a hardcopy, no printing necessary. I mention it here as an honestly useful option, as this low-tech approach works for me. The main drawback is that you look like a nerd to other nerds. Hey, I like my iPod Touch, I'll put the SIGGRAPH Advanced Program on it with Discover, but the sheet o' paper will be my high-level quick & dirty way to navigate and write down information. It's sort of how I like RememberTheMilk for reminders more than Google Calendar: I can enter data very simply, without time wasted navigating the UI. Now if only the sheet of paper would automatically unfold when I take it out of my pocket, I could increase efficiency by 0.43 seconds.
Tags: scheduling, SIGGRAPH
Comments are now closed.