Vokselia
This is a simple list of public links to things related to Vokselia, our little Minecraft world. The quick URL for this page is http://vokselia.com.

SIGGRAPH special: the Utah Teapot one player built (by hand, no cheats) is available for download as a schematic.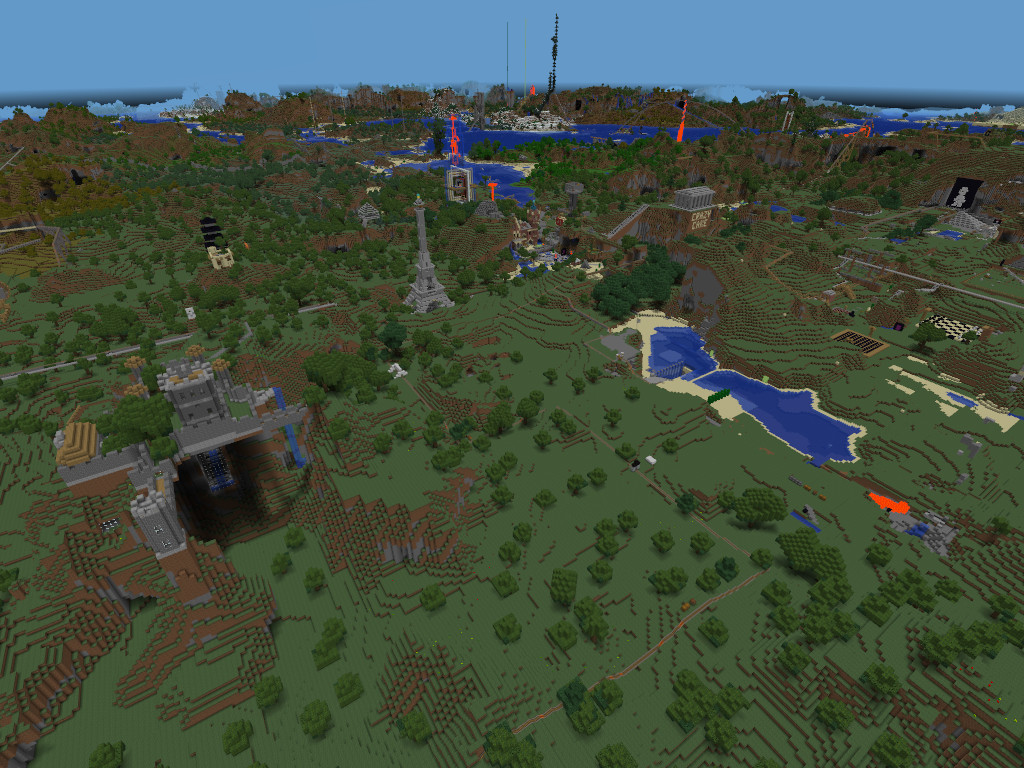 Nerdy details: it's our private SMP server, begun on September 24, 2010. We're a bunch of computer graphics geeks and friends, currently population is about 13. For awhile we had monsters turn on during Fridays (with creepers and ghasts off), but for the most part ours is a peaceful world.
We've used fairly few cheats throughout our history. A few players have gifted themselves various blocks on occasion: pmin loves building railways, so he tends to give himself iron and gold - there's also that antenna...; fusty and Morgan did a lot of excavation, so tried out TNT (which for the most part time-wise was a break-even vs. simply digging out the blocks). When the rules changed and diamond picks then wore out, regloh gifted himself some for his massive excavation effort at The Sphere. A few of us have gifted ourselves a few balls of slime so we can make sticky pistons. We created a stack of bones for the Shrine of the Unicorn, where you must sacrifice a block of diamond or lapis for a bone. I would say about 99% of what you'll see in our world was mined, harvested, and created by hand. The notable exception is the Wild West area, where anything goes and god commands are permitted.
Here's spawn, made using ICE; click to embiggen:

Here's another view of spawn, shown in Photosynth (oh, and another one). My technique: video record using FRAPS and spin around in one spot, slowly moving up (like peeling an orange in a spiral). Run the video through VirtualDub and export to the uncompressed AVI format. Read into Microsoft ICE to get a panorama.
Yes, our world was once known as "Voxelia", but that's a name of a company, so now we're Vokselia. There's no way you could confuse the two, but just in case: if you want to look at Minecraft stuff, you're in the right place; if you want a French company specializing in 3D real time that designs and realizes solutions in the field of infrastructure management, urban planning, prototyping, and transportation, go see them. Clear now?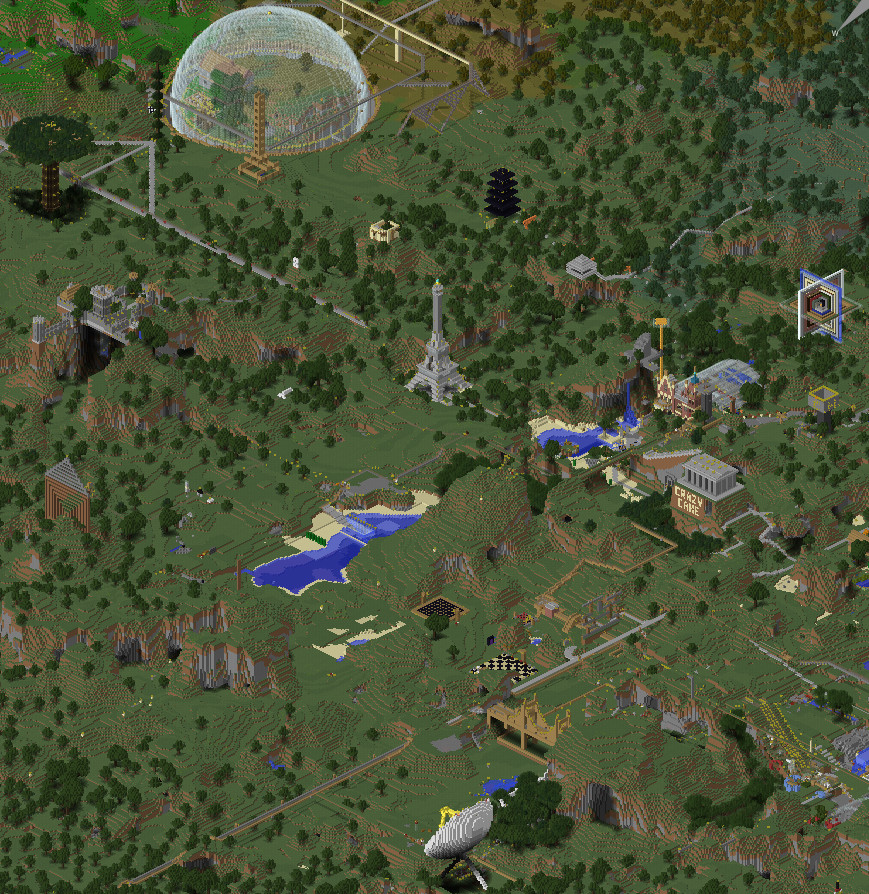 Video Playlist
Here's a rough categorization of our videos to date (well, through June 4, 2012). Some videos may be linked two or more times, as they fit into more than one category. Newer stuff is listed first, except for the Summaries videos.
Building Ideas/Technology
Simple (or not so simple) ideas that anyone can implement or learn. "Defunct" means just that, it no longer works under the current game code. Remember that you can download our world to look at most of the inventions. Listed with the newest first.
Tours
Events
Times when we got together to do something.
Summaries
I made a bunch of these odd little two-second glimpses of Minecraft play on our world over some span of time. They're an acquired taste, like monkey brains.
Bugs
Sometimes we'd record odd bugs.
None of the Above
Stuff that's hard to classify.

Summary videos follow - why not?

And the fast-cut video snippets build reviews (third month is my favorite, music-wise).

One last view of spawn, looking towards the Community Station: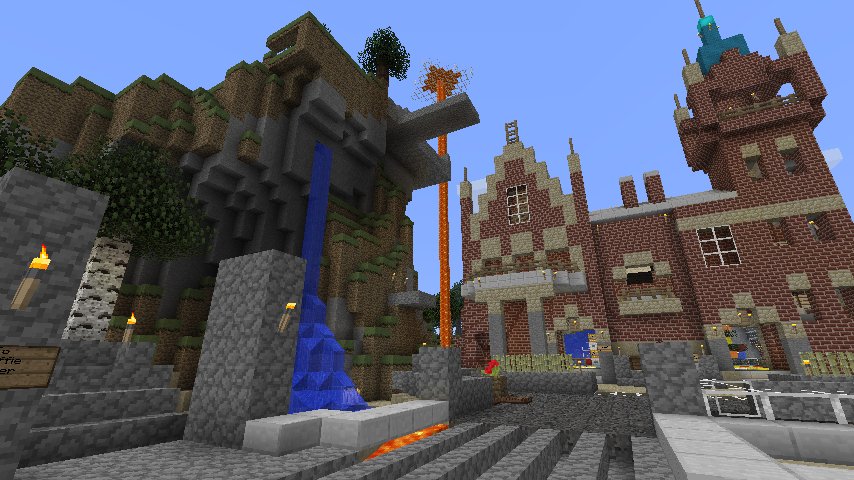 contact Eric Haines
Last updated 8/16/2015