It clearly takes a village to write the book Real-Time Rendering. Ola Olsson pointed out this entertaining bit on Google Scholar: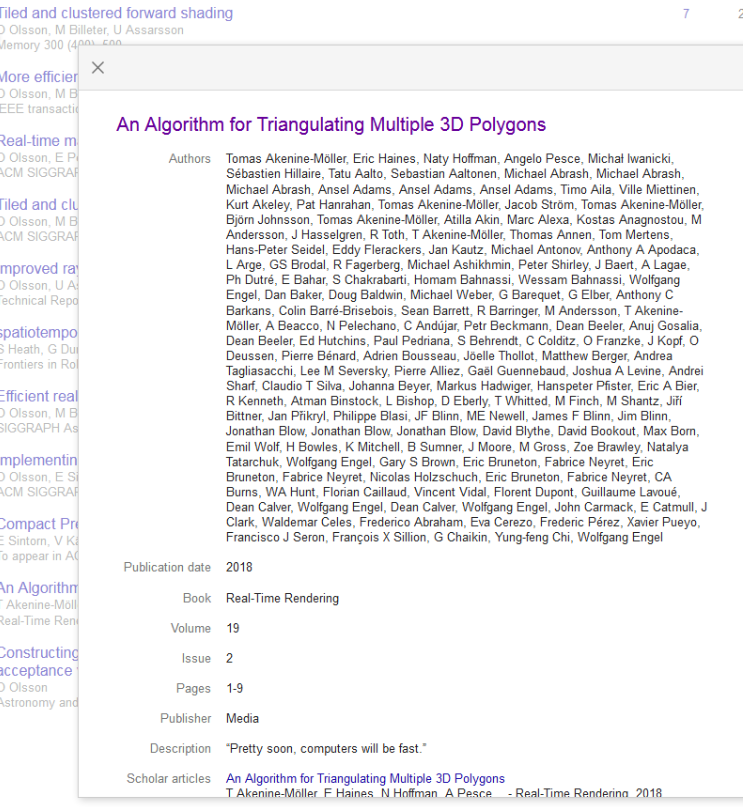 The fourth edition appears to be Volume 19 Issue 2. The article mentioned does exist, but is the very last reference in the book (#1978). The number of authors on the paper is impressive, quite an increase from the original three for this article. Ansel Adams, among others, gets listed three times as an author – excellent CV padding. My favorite, though, is the description of the article, a quote by Billy Zelsnack used at the beginning of our chapter "The Future."
I poked around a bit more and found some alternate reality listings, such as this: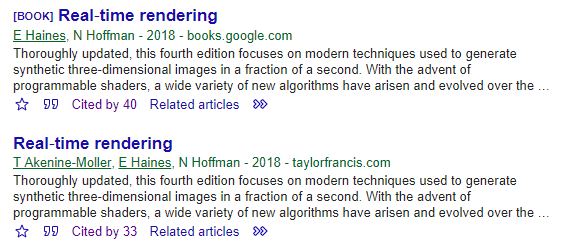 In both 4th editions our new three authors don't show up. More disturbing is that in one universe's edition Tomas Akenine-Möller also no longer exists (sad, since he's listed six times as an author in the first image). And a strange universe it is, where the book has 40 citations, despite being out for less than 6 weeks. The prescience of some authors citing it is impressive, with one article published in the year 2000 referencing this fourth edition. Research must be wonderfully accelerated there, with developers being able to read about future breakthroughs that they can then write up.